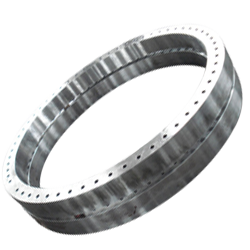 Seamless Rolled Rings
MATERIALS, SIZES AND PROFILES : Tirupati offers a wide selection of Carbon, Stainless and Alloy steels. All are certified, all are traceable. Seamless rolled rings are produced in diameters upto 500mm dia meter & weights upto 50 Kgs. Profile
COMPUTERIZED HEAT TREATING : Normalizing, quench hardening, annealing and tempering operations are performed in-house.
COMPLETE SIZING AND MACHINING OPERATIONS : Tirupati post-forming capabilities include specially designed expander units that perform hot or cold sizing operations to bring rings into final diameter tolerances, and complete machining capabilities that allow us to furnish rings at any stage from "as rolled" to "ready-to- install".